Last Weekend's Event and New Playtesters!
Last weekend we had an open house so people could come pick up Vengeance! We had hoped a few dozen might show up, and we got RSVPs from about 40 people, but we ended up having around 70 in total!
There were several groups of people who sat down to play their newly acquired games: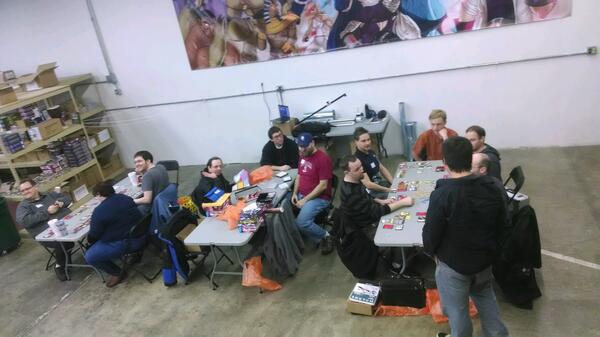 A Mr. Chomps fight broke out!
And there was even an impromptu gathering of members of our forum community: (and this picture doesn't even have all of them in it!)
The picture is unfortunately fuzzy because this guy messed it up:

(Thanks to Evan Daniels of Team Fancy for the great photos!)
All in all the First Annual Gathering of Heroes was a great success!
Yes, I said "First Annual." It went so well that we are excited about doing so again next year, and probably for doing at least some small release event for any Kickstarter or pre-order we make available. So, we're planning on doing another open house when Galactic Strike Force is about to ship out in a few months! 
Unrelatedly, we've had a number of people ask about becoming Playtesters. Well, good news! From now until noon (Central Time) on Friday (February 7th), you can purchase Lifetime Playtester Access from our web store for $40.
Q: What does my $40 get me?
A: Access to all of the GTG Playtesting boards, past and future, on this forum, including PDFs of playtesting material for new games.
Q: What games will I be playtesting?
A: Any games and expansions released by GTG, including Sentinels of the Multiverse, Galactic Strike Force, and various future products.
Q: How long will I remain a playtester?
A: For life and/or as long as GTG exists, as long as you do not go about revealing playtesting information outside the forum or being a jerk. Technically, GTG reserves to right to revoke anyone's playtester status, at any time, for any reason. However, in all our history to date, we have never yet done so.
So, if you're interested in joining our Playtesting Corps, check this link (NOW REMOVED) out! 
And, remember, keep on saving the Multiverse!